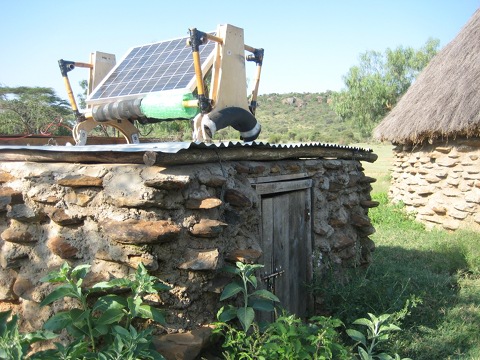 People – myself included – have a tendency to judge others' work for whatever reason. "That guy's startup isn't going to change the world." "Her non-profit is useless." "His college major is total BS." "That company is never going to make any money with such a dumb product." You know how it is, and you've probably thought the same thing about people too. Haters gonna hate, right? On the flip side, we like to think that the activities we pursue and our initiatives are going to go on and make some fantastic impact on the world one day. But wait a minute, those people we're judging must have the same high opinion of their own work too. They have hopes and ambitions for what they want to carry out, just like we do.
I've only recently realized how trivial it is to waste time assigning my own opinions to others' work, especially since we never know the full story about what people are doing and how quickly they're learning. For me, the SunSaluter is structured around a different idea for a business model or target market every time I think about it. That's the point. The idea is still being developed. I learn new facts about the solar industry and about energy accessibility in developing countries every time I browse Reddit or read a paper, so of course my vision for the SunSaluter is going to change! And that is okay, as long as every day I am working towards executing the vision. People can judge the meaningfulness of the SunSaluter all they like, but they're never going to get it right because they can't see what's in store.
It's important to build a strong foundation of background knowledge and experience for pursuing your goals. I firmly believe that the most effective method to gain the necessary skills for starting your initiative – whatever it may be – is to dive straight into it and just execute. You will pick up the right abilities along the way. If you have a very lofty goal, start small and work towards that before tackling your bigger dream. Rome wasn't built in a day, after all. Maybe one needs to get a degree in Comparative Literature (not that there is anything wrong with that!) before they can write their New York Times bestseller. Maybe one needs to build a simpler app to understand how to code before building something bigger. How can we judge others on their work if we don't have any idea of their potential or trajectory?
Maybe I need to build a solar panel rotator – which has the potential to meet an important need – to learn the important skills behind what it takes to carry an invention to market before I tackle bigger fish later in my life. What's the rush? I'm learning so much about starting my own initiative, presenting the idea, finding the right niche for my product in a market rife with competition, troubleshooting when prototypes are falling apart… I have the privilege of learning these lessons at a younger age than most people, and it will help to make me a well-rounded person in the end, brick by brick.
For those of you who have been wondering about our progress, Roseicollis Technologies Inc. will be rolling out a new set of pilot projects with our more robust design later this year. I am currently training with the Canadian women's senior development rowing team in Amsterdam while I do business development, outreach and prototyping for the SunSaluter. All of this is possible with my supportive team member, Yee Chen. In order to gain diverse field experience and figure out where the best fit is, we have a number of pilots planned in countries like Uganda, India, Tanzania and Nicaragua. From there, we can narrow down our focus after seeing the results of the pilot.
More electricity can help more people lead better lives. The SunSaluter has enabled Kenyan villagers to charge additional devices. They would not have otherwise been able to access this extra electricity (which can be up to 40% on a good day) unless they purchased a whole other panel, which would have been more expensive than the SunSaluter add-on. If executed properly, the SunSaluter has the potential to make a difference in at least a few people's lives because it is a simple concept rather than a complex, inaccessible technology. Solutions just need to work – they don't need to be novel (although they often are), mindblowing or "world changing" (whatever your definition may be).
Haters can keep on hatin', but if I can help to electrify a few more villagers with my work, it will make the kind of difference that I strive to make.